Grandstream's UCM series of IP PBXs
The Power and Simplicity of Unifed Communications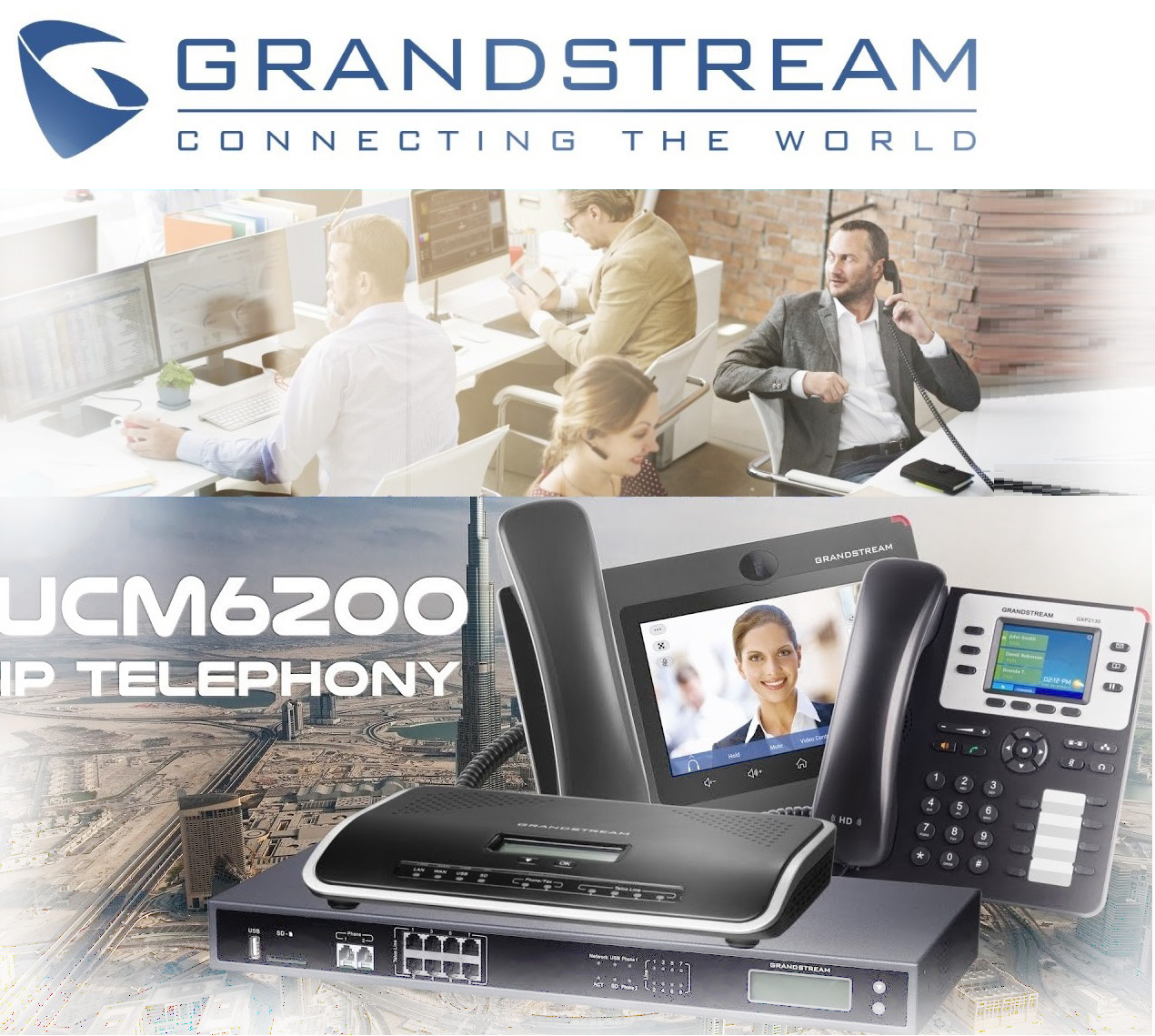 A powerful yet easy to manage voice, video, data, and mobility communications platform has never been more achievable than when anchored with Grandstream's series of UCM6200 series IP PBXs. The UCM series of IP PBXs offer an extensive set of unified communication features in an easy-to-manage on premise solution with no licensing fees, upgrade fees or costs per features. Our UCMs range from small and medium business deployments to small and medium enterprise solutions.
Enterprise-grade Features catered to Small to Medium Business
No Licensing or Recurring Fees / Includes Lifetime Firmware Updates
Easy Installation and Management: Auto Discovery & Zero-Configuration
Smaller organizations have the same communications needs as larger enterprises. Often entry-level IP PBXs for smaller businesses include popular calling features like Caller ID, Call Hold, Call Forward, voicemail, etc., but require additional license fees for more advanced features like auto attendants and IVR. All UCM series models include all features and functionalities we can possibly offer with no licensing or on-going costs. You get access to the entire platform and all future feature upgrades or additions for just the one time upfront purchase price. This provides a significant savings of up to several thousands of dollars. Even further, the entire UCM solution is setup and managed from one centralized and intuitive web user interface with built-in tool tips.

Comprehensive UCM series IP PBX
The UCM6510 creates an easily manageable on premise anchor to your communications network. This enterprise-grade IP PBX comes equipped with a suite of advanced call handling and network data features, all with no licensing and no fees. Its scalability offers deployments that can support up to 2000 users, and it supports E1, T1 and J1. The UCM6510 series allows businesses to unify multiple communication technologies, such as voice, video, surveillance, data tools, and facilities access management into one common platform that can be managed and accessed remotely. With features such as customizable call-routing, multi-level IVRs, call queues, auto-attendant, call detail records, multi-site peering, SIP video support, voicemail/fax forwarding to email and more, the UCM6510 delivers complete unified communications. Designed to provide a centralized solution for the communication needs of businesses, the UCM6200 series IP PBX appliance combines enterprise-grade voice, video, data, and mobility features in an easy-to-manage solution. This IP PBX series allows businesses to unify multiple communication technologies, such as voice, video calling, video conferencing, video surveillance, data tools, mobility options and facility access management onto one common network that can be managed and/or accessed remotely. The secure and reliable UCM6200 series delivers enterprise-grade features without any licensing fees, costs-per-feature or recurring fees.